PROVIDING GUIDANCE AND SUPPORT
Quicklinks: Wellness Center – Adult Group Exercise – Adult Water Fitness
Wellness Center
At the Marion Family YMCA we focus on overall wellness, empowering you to tailor your own plan toward healthier living by choosing how you will accomplish your wellness goals.
The whole approach means you have many options and lots of support as you choose your path to a healthier new you!
The large variety of cardiovascular and strength training equipment allows members with diverse abilities, backgrounds and  interests to workout together. This space includes over 30 pieces of cardiovascular equipment including treadmills, steppers, ellipticals, upright & recumbent bikes, an ergo meter, and a recumbent stepper and a Jacob's Ladder. The Wellness Center has coaches available to help you get started or move your fitness to the next level.
WHAT IS FIT60*
Free for Members
We understand that sometimes beginning your membership can be a little overwhelming. With dozens of programs, opportunities, and equipment to learn, you may find yourself not knowing where to start. The Fit 60 appointment is designed to help you with this. Our Wellness coach will spend 60 minutes with you to fully understand your particular needs and goals. He or she will discuss and show you programs, equipment, and classes that will best fit you needs. You should expect to leave with an understanding of what fits you best here at our Y and where to start.
Your FIT 60 appointment could include:
ActivTrax – For members who want to incorporate resistance training in their exercise program with one of the most powerful fitness tools available. ActivTrax helps guide you in reaching your overall goals through activity tracking, guided workouts and nutrition and meal planning.
OR
Coaching Session – Coaches will help design an exercise program that fits the member's needs.
WHAT IT'S NOT
Your FIT60 appointment is not a high pressure sales pitch for personal training or a medical type of appointment where you'll be poked and prodded. You don't' have to worry about being uncomfortable or embarrassed; you won't be asked to do anything you don't want to do.
WHO SHOULD ATTEND
Anyone 14 years or older. Whether you're new to exercise or in tip-top shape, our FIT60 experience is an opportunity for us to get to know one another. Whether you want to lift weights, take classes, swim, play sports or have some other interests in mind, we want to make sure we do our part in helping you get started on the right foot.
WHY IT'S IMPORTANT
Members who attend their FIT60 appointment within the first two weeks of joining are 6x more likely to achieve their goals. Let's make sure you're one of them!
If you choose ActivTrax, you can access a online weight management tool to help you match your calorie intake to your activity levels and achieve any weight  management goals you may have.
After you attend a Fit60 appointment, you will recieve a FREE 3 day pass and a AND ONE OF THE FOLLOWING:
Session of swim lessons, Session of an adult water class,health innovation class, youth sport session, 2 guest passes,  $10 off child watch pass or $10.00 off any small group training. Must be an active member. Must sign up immediately following the FIT 60 appointment.
Stop by the Service Center and set up your FIT60 appointment today!!
ActivTrax for SilverSneakers
*Silver Sneaker members pay just $20 per month for this unique tool. Workout at the Marion Family YMCA 11 days in one month, and we'll waive the full $20 the following month, meaning you'll pay nothing! In order to receive credit for days visited ActivTrax fees must be paid through automatic draft of a checking or savings account  on the 15th of each month.

PICKLEBALL

FREE for members
Check our gym schedule for times
PERSONAL TRAINING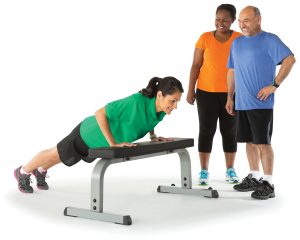 Get the results you desire with a YMCA Personal Trainer! The YMCA's certified trainers can help you reach your fitness goals. Perhaps you're just beginning to work out on a regular basis, or maybe you're a serious athlete looking to get to the next level. Whatever your situation and goals, our YMCA Personal Trainers can help YOU!  YMCA Personal Training is a great way to customize your workout program.  Our trainers can help you improve your cardiovascular fitness, muscular strength, endurance, and flexibility, and can further improve your body composition through both traditional and innovative techniques.
FEE: 5 – 1 HOUR SESSIONS FOR $140
Because we know that healthy lifestyles are achieved through nurturing mind, body and spirit, well-being and fitness at the Y is so much more than just working out. Beyond fitness facilities, we provide educational programs to promote healthier decisions, and offer a variety of programs that support physical, intellectual and spiritual strength.
Thank you for your understanding as we may adjust our typical class schedules and structures to protect the health of our Y family. We may make additional adjustments and will keep our members and program participants informed of further changes.
WEIGHT LOSS PROGRAM
Are you ready to take the first step toward a healthier lifestyle? We want to take this journey with you, and we are dedicated to supporting you with your health and wellness goals.
The Y Weight Loss Program is designed to help you become more aware of your existing health behaviors and equip you with the skills and knowledge to develop your own plans to realign those behaviors so that you can achieve your weight loss and healthy living goals. With the support of the group, you can expect weekly discussions, idea sharing and the opportunity to apply what you learn in daily life.
The YMCA Weight Loss Program supports and assists participants in ways that help make small, modest improvements in healthy behaviors. We do this by providing information and encouragement and creating an environment where participants can discover their own paths to positive change.
12 week program
Curriculum is credible, evidence-based information
Build confidence and competence to achieve goals
Class meets for one hour once a week at the same day and time
Trained instructors/facilitators
Weekly weigh in and food logging
Open to any adult 18 years and older who feels they have weight to lose
Contact Heather Wright for more information at hwright@marionfamilyymca.org
OHIOHEALTH DELAY THE DISEASE BACK TO BASICS- TBD
Begin your  journey toward greater mobility, increased confidence and independence in this class. The class will teach basic exercises that everyone with Parkinson's disease symptoms should be able to accomplish. Sponsored in part by the Marion Community Foundation
OHIOHEALTH DELAY THE DISEASE BASIC TO INTERMEDIATE LEVEL – TBD
A fitness program designed to empower people with Parkinson's disease by optimizing their physical function and helping to delay the progression of symptoms. Instructor is certified in DTD. on balance, core, strength, walking and moderate heart rate elevation. Sponsored in part by the Marion Community Foundation
OHIOHEALTH DELAY THE DISEASE ADVANCED TO BOOTCAMP LEVEL – TBD
A fitness program designed to empower people with Parkinson's disease by optimizing their physical function and helping to delay the progression of symptoms. Instructor is certified in DTD. Sponsored in part by the Marion Community Foundation
Advanced to boot camp level focuses on balance, core, strength heart rate elevation and high intensity.
HELPING YOUR LIVE BETTER  – TBD
Enhance Fitness
Monday, Wednesday & Friday
10.:45 – 11:45
AS1
FREE for members
Non Members $5.00
Sponsored in part by the Marion County Council Foundation and Marion Community Foundation
Contact Heather Wright for more information at hwright@marionfamilyymca.org
YMCA's  DIABETES PREVENTION PROGRAM 
Diabetes is a serious health condition that can lead to heart disease, stroke, kidney failure, high blood pressure, and blindness.  If you have been diagnosed with pre-diabetes, or believe you may be at risk for developing the disease, the YMCA's Diabetes Prevention program can help you develop a healthier lifestyle and work with you to reduce the risks this condition can pose to your health.  Through the program you will receive support and encouragement from both a trained lifestyle coach and fellow classmates as you develop a plan for improving and maintaining your overall well-being.
Information and Enrollment Contact: Statewide: 833-438-1312 or go to www. ohioymcadiabetesprevention.org
Click here to view our brochure
NUTRITION COUNSELING 
Eating healthy can help you feel better, have more energy & improve your well-being. Sorting through all the information & making a change are difficult. Now the Y can help with our registered dietitian.
Call Heather to set up your appointment contact Heather Wright at hwright@marionfamilyymca.org
$30.00 per hour session
LIVESTRONG®AT THE YMCA
Sponsored by OhioHealth
LIVESTRONG at the Y is a FREE program tailored to fit the specific needs of adult cancer survivors who would like to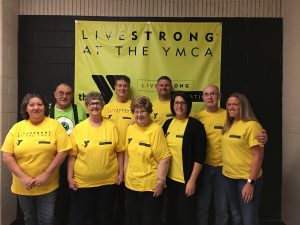 improve their quality of life before, during and after treatment. It is a 12 week program that meets for 45 minutes twice a week with certified instructors who have undergone specialized training in the elements of cancer, rehabilitative exercise and supportive cancer care.
Program Goals:
Increase flexibility and endurance
Enhance functional ability to do everyday tasks
Improve energy levels, build muscle mass and strength
Reduce the severity of therapy side effects and prevent unwanted weight changes
Support group for cancer survivors
If you are interested in signing up for the program, see the Service Center for more information or contact Monica Addy at maddy@marionfamilyymca.org
Pre registration is required & begin at any time.
FREE Membership for 12 Weeks
This program may include virtual sessions through an online platform.
Click here to download the full brochure



IMPROVING WELL-BEING
ADULT WATER FITNESS TBD
Healthy living is an important part of the Y. Water fitness classes are a great way to exercise, and a great way to become involved in the Y Community.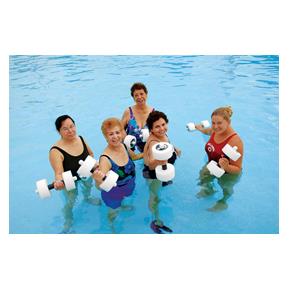 In water fitness, we have created a strong community of supportive and caring peers who work together to encourage and push each other to stay on track and accomplish goals. We offer a variety of classes to meet the needs of anyone who is interested in a water fitness class.