TUMBLING
Learn. Thrive. Grow.  Meet others while improving coordination, balance and flexibility.
***All information is subject to change according to any announcements by the state of Ohio regarding their Responsible Restart guidelines or the Marion Public Health Department.
Session Dates / Times:
Session 1: September 18—October 31, 2020
Session 2: November 13, 2020—December 19, 2020
Level 1 class was previously Friday evenings and is now moved to Saturdays 8:30—9:15 am
Level 2 moved to 9:30 – 10:15 am
Level 3 moved to 10:30 – 11:15 am
Level 4 moved to 11:30 – 12:00 pm
Beginner Class for age 3: Fridays 6:15—6:45 pm
*No evaluation appointment necessary for Beginner Class*
Evaluations are required for Level classes and will be held on Saturday, September 12 and the week of September 14 by appointment. Evaluations are an opportunity for the instructor to meet with your child to determine the level of tumbling class they should be placed in.
Ages: 4-12 years
Member Fee:   $15 per child Non-Member Fee: $30 per child
Tumbling clothing is not required and it is certainly welcome.
Click here to download the registration form
YOUTH STRENGTH TRAINING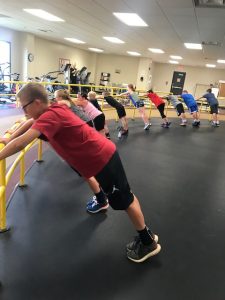 Ages 9-13 years old
Members $15
Program Participants $30

Wednesday 6:30-7:30pm
November 4 through December 16
January 6 through February 17

Training is intended to provide a supervised introduction to physical fitness and a healthy lifestyle. Strength training technique will be demonstrated with an emphasis on proper form and execution; not on the amount of weight lifted. Activities include flexibility training, cardiovascular training, strength and conditioning, instruction and principles of nutrition. This program is great for sports conditioning to prevent injuries and promote physical fitness as a healthy lifestyle.