BUILDING HOURS
Monday through Thursday 5 am – 9 pm
Friday 5 am – 7 pm
Saturday 8 am – 4 pm
Sunday 1 – 5 pm
HOLIDAY HOURS
Thanksgiving – CLOSED
Christmas Eve –  CLOSE AT 1:00PM
Christmas Day – CLOSED
New Year's Eve – CLOSE at 4:00 PM
New Year's Day – CLOSED
Easter – CLOSED
Memorial Day – CLOSED
4th of July – CLOSED
Labor Day – CLOSED
CHILD WATCH 

Monday – Friday Mornings – 9:05 – 11:20am
Monday – Thursday Evenings – 4:45pm – 7:50pm
Kids can play in a fun, safe environment under the supervision of responsible Y staff so members can work out or take a class.
Parent Handbook
Hours and Age
Monday – Thursday Drop in between 9:05am – 11:20am and 4:45pm – 7:50pm
Friday 9:05am – 11:20am
Ages 18 months through 8 years
No Reservations Required
Maximum 2 hours and 15 minutes
Protocols and Safety
One parent is allowed in Child Watch to check their child/children in. The parent is only allowed right inside the door.
A waiver form will need signed before your first visit. If you have not signed the waiver, you must go to member service center before entering Child Watch.
Staff will place a nametag on the child's back after they enter the room.
There will be limited toys and they will be disinfected before a new group of children come in.
Outside toys will be allowed.
Food and drinks are not permitted in Child Watch for allergy and safety reasons.
Your child may bring in a water bottle (water only) with the child/children's name on the bottle and already filled with water.
No strollers, car seats, binkies, etc. allowed in Child Watch
GROUP EXERCISE CLASSES
Group Exercise participants must continue to bring their own personal exercise mat.
No Reservations required.
In Person Classes
Virtual Group Exercise Classes ( Members Only)

To join the private Face Group page,
click here
GYM AND POOL SCHEDULES
MARION FAMLY YMCA CONNECT APP
FREE to all members!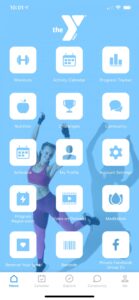 Must have valid Email on file with the Y.
Members receive an activation email.
Members also have access to all features from a desktop computer.
DOWNLOAD THE APP on your phone
If you are an active member and have been set up with a  Marion Family  YMCA
Connect account, but have not downloaded the app, choose an app store below.
Search for Marion Family YMCA Connect
Install
Login Screen – Use the email/password you received to activate your account
Note: It may take 2-3 days to receive an email link
WE'RE MOBILE FOR A STRONGER CONNECTION
Our Mobile App is a comprehensive digital community experience that opens up opportunities for you to live healthy, receive and give support, obtain updates, and connect with other Y members and groups. Whether you do it to keep up with your fitness goals, stay up to date on your children's programs, or meet up with one of your groups for a walk, jog, or a cup of coffee; we'll help connect you and keep you connected within the Y's friendly community.
Marion Family YMCA Connect includes:
Barcode Tile: Check in and out from your phone.
Private Facebook Group Tile: If you are a member of the group, click on the tile and you will go directly to the private group. If you haven't signed up and been approved, go to  Facebook and search for Marion Family YMCA Fitness.
Reserve Your Spot Tile: Click on this tile, you will go directly to our reservation page. You can reserve spots for Pool, Child Watch and Group Exercise Classes.
Program Registration Tile: Click on this tile, you will go directly to our registration page on Website and sign up for paid programs.
Schedule Tile: Click on this tile and you will go directly to a list of all the classes that you need to make a reservation to
attend and all of our paid programs. Search by date, instructors or activities. You can find a class and click on reserve your spot or if it is a paid class, click on Register Now and it will take you to our Website.
Workouts Tile: Click on this tile and you can search for example exercise workouts or create your own workout. Pro work-outs include animations.
Challenges Tile:  Click on this tile and join a challenge. Cycling, sit-ups walking and much more!
Community Tile: Click on this tile and view the central communication area. You can reach out to other members in the community.
Activity Tile: Click on this tile and view your activities and challenges you are doing.
Progress Tracker Tile: Click on this tile to view your progress and update your progress.
My Profile Tile: Click on this tile to view your communication with others, view your work-outs and challenges.
Account Settings Tile: Click on this tile to set up your personal information, notifications, privacy settings and connect to personal devices.
The old app will be available for check in and check out only. No updates will be sent starting May 1, 2021
Upgrade to the Pro version for just $5.00 per person more a month!!
This app includes everything above plus a meditation library, nutrition library and videos on demand. Workouts include Jillian Michaels, Zumba, Billy Blanks and much more. Click here for more details. Must stop by the Service Center to upgrade.
[/one-half]