LIVESTRONG®AT THE YMCA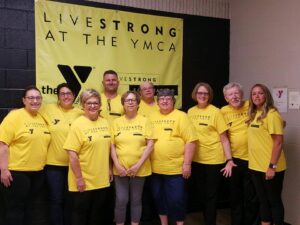 Sponsored by OhioHealth


LIVESTRONG®  at the Y is a FREE program tailored to fit the specific needs of adult cancer survivors who would like to improve their quality of life before, during and after treatment. This program meets for 1 hour twice a week with certified instructors who have undergone specialized training in the elements of cancer, rehabilitative exercise and supportive cancer care.
The next session begins May 2 through July 29
Monday & Wednesdays
6:30pm-7:30pm
Program Goals:
Increase flexibility and endurance
Enhance functional ability to do everyday tasks
Improve energy levels, build muscle mass and strength
Reduce the severity of therapy side effects and
prevent unwanted weight changes
Support group for cancer survivors
Pre registration is required FREE for survivor and family
Contact Heather Wright at hwright@marionfamilyymca.org for more information or to get placed on a interest list or call the Y at 740-725-9622.