HELPING YOUTH REACH THEIR  POTENTIAL THROUGH ADVENTURE, FUN, ACHIEVEMENT AND BELONGING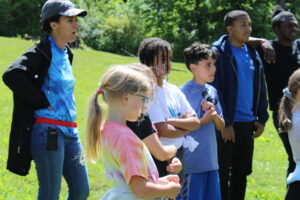 We are looking for individuals age 13- to 17-years old who have a love of working with children, are passionate about helping others, and want to have FUN!
Imagine your work day including a game of kickball in the gym, songs, arts & crafts, Gaga Ball, lunch and swimming.
The goal of the program is to develop leadership skills that you can use throughout life and to help others and yourself identify and achieve goals. We help to develop your skills in leading and teaching children.
CIT Training is the week of May 30. Summer programming runs June 6 – August 12. Camp operates Monday through Friday 6:30 am – 6:00pm.
Position Requirements:  Position requires a person who demonstrates leadership, maturity, flexibility, and patience working with children. Must be at least 13 years of age. Person must have a personality that reflects a love of children, can understand and meet their wide variety of needs, and is creative and spontaneous. Prior camp experience is preferred. CPR and First Aid certifications are required. Incumbent must complete YMCA Child Abuse Identification and Prevention and YMCA 101 prior to the first day of camp. Those accepted into the program will be required to pay a $50 fee. This fee is refundable if the CIT completes at least 5 weeks of summer camp.
 POSITION STATUS & SCHEDULE INFORMATION:
Seasonal volunteer position
Staff Training in late May
Camp and summer activities run June 6 – August 12
 APPLICATION MATERIALS:
Applications accepted until May 13, 2022. Please apply early.
 Direct questions and Send Above Items to:
Haley Wilkes at hwilkes@marionfamilyymca.org
CIT program, teens have the opportunity to shadow our Summer Day Camp Counselors and develop their leadership skills through hands-on interactions with children and Summer Day Camp Staff. This is the perfect program for teens that have the desire to become future camp counselors and leaders.
The most successful applicants treat the application and hiring process just like any job application. Parents should feel free to help in certain ways, like guising the applicant in selecting references and helping them learn to professionally apply and interview. At the same time, please remember we seek candidates who are independent, mature, and self-motivated. It is our hope parents help cultivate these traits by allowing their teens to take full responsibility for their CIT application. Our goals are that all applicants to the Counselor-in-Training program to gain skills that are applicable not only to being a camp counselor but to other aspects of their lives.