START THE NEW YEAR OFF WITH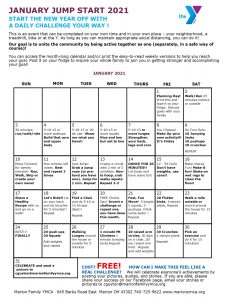 A DAILY CHALLENGE YOUR WAY !
To sign up for this event, click here.
Click here to download the calendar
This is an event that can be completed on your own time and in your own place – your neighborhood, a treadmill, bike or at the Y. As long as you can maintain appropriate social distancing, you can do it!
Our goal is to unite the community by being active together as one (separately, in a safe way of course)!
You can access the month-long calendar and/or print the easy-to-read weekly versions to help you reach your goal. Post it on your fridge to inspire your whole family to join you in getting stronger and accomplishing your goal!
COST? FREE!   HOW CAN I MAKE THIS FEEL LIKE A REAL CHALLENGE?    We will celebrate everyone's achievements by posting your pictures, quotes, and stories. If you are able, please share your success on our Facebook page, email your stories or
pictures to cguyton@marionfamilyymca.org.