Visiting the pool is a great family activity, and the Y makes sure families can enjoy swimming together.

Family Swim is available for households to swim together as a group in a defined space in the Small Pool. Households must be people who live together. The maximum household size for Family Swim is six (6). An adult must be with the household group.
Each household swimming must make an advanced reservation. Reservations are limited to just four household groups per Family Swim time.
Each household may reserve only one time slot per day.
One person from the Household should make a reservation for the household group.
Household groups must maintain 6 feet of distance from all other household groups in the locker rooms, on the pool deck and in the water.

Dates & Times Monday-

Friday 

Evening's 6:00-7:45pm

, Saturday 10:00-12:00pm

 

To make a reservation:
Go to https://groupexpro.com/schedule/873/?view=responsive
Find Family Swim. There's a drop down menu at the top if
you want to only see one class type.
Click "Sign Up"
Your first time using the system you'll need to create a login: click "Create a
Login", enter full name, email, password, confirm password and then click
"Register".
When you are a returning user, enter login information (email and password) and
click login.
Click "Reserve a Spot".
You can sign up one week in advance.
Or, you can call the Y at 740-725-9622 and our Member Service Representative can
make a reservation for you.
Adult Water Classes

Next Session is Sept 14 – Oct 31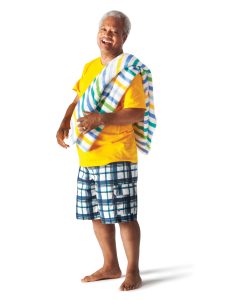 Register on line or at the Y
$16  per sessions members only
Sign up on line, stop by the Y at 645 Barks Road East or call 740-725-9622
Water Exercise
Low impact exercise to increase mobility, flexibility & range of motion.
Class is held in the Small Pool.
Monday and Wednesday
9:00am-9:45am
Arthritis
Helps relieve stiffness and pain. Improves strength, builds endurance, flexibility and improves range of motion. Approved and certified by the Arthritis Foundation.  Class is held in the Small Pool.
Monday and Wednesday
10:00am-10:45am We will have a waiting list and if at least 9 more sign up, we will add an 11:00 class
Silver Splash
A water fitness program designed to enhance each individual's quality of life and daily function. Class utilizes the physical properties of water to enhance agility, range of motion, and cardiovascular conditioning. Participants will develop strength, balance, and coordination. No swimming ability required. Get wet, be strong, and make friends in SilverSplash. Class is held in the 8 Lane Pool.
Tuesday, Thursday and Friday
9:00am-9:45am We will have a waiting list and if at least 9 more sign up, we will add a 10:00 class
H20 Deep and shallow
In this class, we use the water for resistance when working on cardio and muscle conditioning workouts.  Class is held in the 8 Lane pool in the deep and shallow end.
Tuesday, Thursday and Friday
11:00am-11:45am