Youth soccer offers fun for players of all abilities. Kids gain the basic skills of the game, while learning how to follow rules and practice good sportsmanship.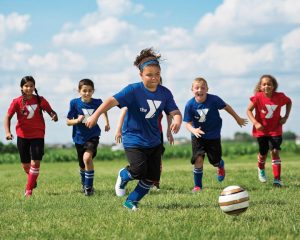 Ages 3-4/5-6/7-9/10-13
Season Dates: 7 weeks total starting in May (Exact date TBD)
Ages: 3-13
Member Fee: $30 per child Program Participant Fee: $60 per child
Price includes: Reversible jersey. Pictures may be purchased for an additional fee.
**Team jerseys are the same as previous sports/seasons**
Registration Deadline: April 25, 2020
Late Registrations: April 26—May 1, 2020
Late registrations submitted, will be reviewed and accepted on a space-available basis with an additional $10 late fee. You will be notified by the Program Manager if your registration was accepted with your team and season information.
Meet the Coach / Complete Paperwork: May ?, 2020 (Exact date TBD)
Ages 3-4 @ 10:00 am / Ages 5-6 @ 11:00 am / Ages 7-9 AND Ages 10-13 @ 12:00pm
FEE:
Members $30
Program Participant: $60

For more details view this form
Click here to register online
For more information contact Nathan Strome at nstrome@marionfamilyymca.org  or 740-725-9622