If you have been diagnosed with pre-diabetes, or believe you may be at risk for developing the disease,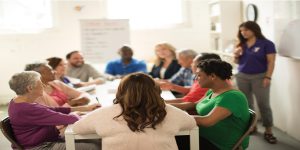 the YMCA's Diabetes Prevention program can help you   develop a healthier lifestyle and work with you to
reduce the risks this condition can pose to your health.
Reduce your chances of developing type  2 diabetes by learning healthy habits in a supportive environment.
This year long program is a weekly one hour session followed by bi-weekly and monthly sessions. 
PROGRAM GOALS
Reduce body weight by 7%
Increase physical activity to 150 minutes/week
TO QUALIFY
Participants must:
Be at least 18 years old
Have a Body Mass Index (BMI) of 25+
Have certain Lab Values or Diagnosis
Fasting Plasma Glucose range 100-125mg/dl
Fasting Plasma Glucose range 110 – 125 mg/dl (Medicare)
A1C range 5.7– 6.4%
Lab values within the last 12 month
May qualify through other risk factors
COST
The program is provided at NO-COST for those who qualify and are covered by:
Ohio Public Employees Retirement System (OPERS) retirees under age 65 covered by Medical Mutual
School Employee Retirement Systems (SERS) retirees under age 65 covered by
Aetna
Traditional Medicare
Some Medicare Advantage plans
OhioHealth Employees
UnitedHealthcare
Self-pay options available – $429 which includes a year membership
For more information contact Heather Wright at 740-725–9622 or hwright@marionfamily.org.
Begins Thursday February 20 – 5:00 – 6:00pm