Tools for healthy living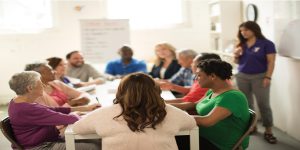 Support for healthy behaviors and weight loss
Are you ready to take the first step toward a healthier lifestyle? We want to take this journey with you, and we are dedicated to supporting you with your health and wellness goals.
The Y Weight Loss Program is designed to help you become more aware of your existing health behaviors and equip you with the skills and knowledge to develop your own plans to realign those behaviors so that you can achieve your weight loss and healthy living goals. With the support of the group, you can expect weekly discussions, idea sharing and the opportunity to apply what you learn in daily life.The YMCA Weight Loss Program supports and assists participants in ways that help make small, modest improvements in healthy behaviors. We do this by providing information and encouragement and creating an environment where participants can discover their own paths to positive change.
Class meets for one hour once a week at the same day and time
Trained instructors/facilitators
Weekly weigh in and food logging
Open to any adult 18 years and older who feels they have weight to lose
October 1 – December 17 2019 Tuesday from 10:15AM – 11:15AM
Members – $59.00 Non Members – $99.00
For more information go to www.marionymca.org or stop by the Y today!