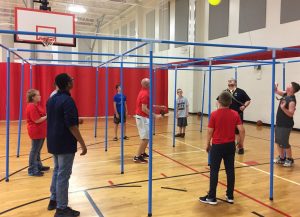 TUESDAY, THURSDAY & FRIDAY
11:00am – 3:00pm
Youth who attend will help decide the activities each day and may include Gaga Ball, ping pong, board games, basketball, 9 square, volleyball, pickleball swimming and more.
Youth Activities will be available to all members ages 11-14 at no cost, and will include lunch. Those who aren't members may participate by purchasing a guest pass, per our normal guest policies. Youth activities are "drop in" and don't require registration.
If you need transportation and live within the MAT bus regular service area, we may be able to provide you with a MAT pass. A parent/guardian must sign a permission form and request a MAT pass on their behalf.
Activities will be available each Tuesday, Thursday and Friday 11:00 am – 3:00pm and FREE lunch provided around 12:15 (time subject to change). Last day is Friday, August 9.