"Our imagination for the future must be greater
than our commitment to the past."
Ben Allen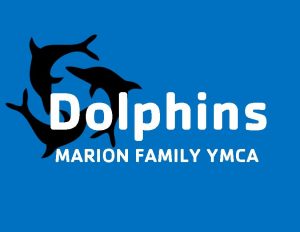 The Marion Family YMCA Dolphin Swim Team is for kids ages 5 to 18 who enjoy the spirit of competition, as well as the camaraderie of being on a team.  We center our program around the values of Caring, Honesty, Respect and Responsibility.  Our athletes are of all ability levels, working to improve their skills,  build self confidence, and develop their potential as a swimmer and individual.
Our swim team has a rich history of helping athletes realize their potential as young persons and as swimmers. In recent years, athletes have met personal bests, set Marion Family YMCA records, set high school team records, and competed at the Zone and National level.
All team members must be a member of the Marion Family YMCA.
Practice time is 5:15—7:15 pm; not all swimmers will swim the full two hours, will depend on conditioning and competition level.
SUMMER
YMCA DOLPHINS SWIM TEAM

The Y Dolphins Swim Team is for youth that are interested in competitive swimming or learning about competitive swimming. The swim team focuses on team unity, the core values of the Y, and learning the team social skills of a very individualized team sport.
Swim Team runs May 16-Late July
GOLD
Practices: Monday through Friday
5:00-6:45PM
8 to 10 hours of practice, competing YMCA
FEE: $190
BRONZE
Practices: Monday, Tuesday, Thursday & Friday
5:00-6:15PM
Beginner swimmers
YMCA competition is optional
FEE: $160
NOTE: Fees do not include swim attire, travel expenses, or meet fees. All team members must be a member of the Marion Family YMCA  
PARENTS MEETING FOR SUMMER IS MONDAY, MAY 7 AT 6:30PM
DOLPHINS SUMMER MEET SCHEDULE 
June 2                                Gahanna Kickoff Classic, Gahanna YMCA, Gahanna, OH
June 4                                Delaware YMCA, Delaware, OH
June 21                              Liberty YMCA , Powell, OH
June 24                            Pentathlon at Liberty YMCA, Powell, OH
July 8                                  Hilliard YMCA at Hilliard, OH
July 27                               Cherry Creek YMCA at Fayette County
Philosophy
We believe that winning can only be measured against one meaningful and reliable standard, yourself. In order to do ones best, you must focus on the process of swimming fast, not winning.
Click here to see a description of the key factors that guide us through the sport of competitive swimming.